The secret to a successful large garden design is to start with an outline plan so the design will be well-balanced and work effectively as a whole. You don't need establish all the details right away as ideas will evolve, but an overall plan is essential to achieve a cohesive look. Each part of the landscape should flow harmoniously into the next, inspiring you to move from area to area, with focal points drawing the eye.
Proper planning from the start will also ensure no costly and time-consuming mistakes are made. The bigger the garden, the higher the costs, as you will need more of everything, whether its hard landscaping, plants, fencing, turf or pavers.
How to start your large garden design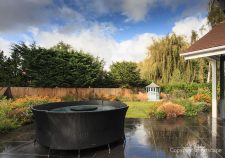 First decide how you plan to use the garden. Think also about the overall style, and then list the features you would like. A wildflower meadow, orchard, swimming pool, children's playground, dining area with a fire pit perhaps? Also consider how much maintenance you are prepared to do or pay for? By combining these answers, you can begin to create a garden that works for you, both aesthetically and practically.
Choose the style of your large garden
Your large garden style should ideally complement the architecture of your house. Large garden ideas often call for a bold design, and the clean lines and symmetry of a formal garden will make a strong statement. A mix of a formal garden layout with its balanced geometric shapes combined with contemporary informal garden naturalistic planting works well.
Read our guide on how to choose the perfect garden style for you.
Create zones in a large garden
When you have a large plot you have the space to divide your garden into zones, for different moods or activities. These zones can be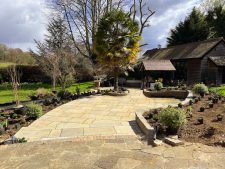 created with hedging, topiary, walls, fencing, paving and other hard landscaping ideas. If you have walls as part of the structure to a garden room, plant with clematis, wisteria or climbing roses for beautiful fragrance and aesthetic appeal.
In any large garden design, pathways are an essential and elegant addition to link garden zones, create flow, and build anticipation.
Focal points for large gardens
A large-sized garden allows you to feature different focal points that draw and direct the eye. A focal point could be a specimen tree, a garden building, a water feature, or a sculpture for example. And if you are fortunate to have attractive, unobstructed scenic views, make sure the surrounding landscape becomes part of your garden's design.
Artworks for large gardens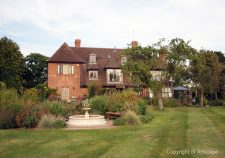 If you have a sizeable plot, think big. A few well-chosen large sculptures will have more impact than a lot of smaller ones. Site your sculptural pieces carefully, as a dramatic centre piece at the end of a long-paved terrace, or a surprise feature you only come across when you turn a corner with tall hedging.
Garden buildings
A garden building could be something as simple as a gazebo, or a place you can enjoy all year round. Whether you use the building as a pool room, office, workshop, playroom, or yoga studio, when it's well-designed and built, it will be a great investment and maximise the pleasure of your outside space. Go for a design that's well insulated and can be mains powered and you'll be comfortable outdoors, whatever the weather.
Water features for large gardens
Water features, whether a lake or a fountain, bring light, movement, and serenity into a large plot. Do also establish a wildlife pond if you can. Use native wildflowers and grasses to soften the edges and provide cover for wildlife. A simple timber jetty is the perfect spot to sit and gaze from.
If you love swimming, consider building a dark pool or a natural pool. Sympathetically designed and planted up to fit into the landscape, the swimming pool can form an enchanting garden feature as well as an idyllic spot to bathe.
Planting schemes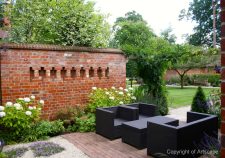 When planning your planting scheme, start with trees and evergreens as these will have the most impact throughout the year. Trees create vertical interest and structure in the garden. Then consider your choice of deciduous flowering shrubs, perennials, annuals, and bulbs to provide seasonal colour, softness and interest.
Alfresco cooking and dining
Outdoor spaces have evolved to become fully functional living spaces, with distinct areas to cook, entertain and dine. In a large garden an outdoor kitchen is a smart idea. Do incorporate a sink, ample storage and preparation areas, and a built-in fridge, wine cooler and ice-drawer where space and budget allow.
View more of our fabulous large garden designs
Let Artscape help you create your ideal large garden
Our garden designers and landscapers can help you realise your vision and achieve the outdoor space you long for. Please contact us now for the best professional advice.