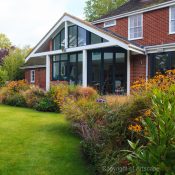 A successful family garden is a well-balanced space that pleases every member of the family; children, adults and pets alike. Whether that means having a safe and fun play area for the children; a quiet spot for adults to relax; or a terrace for everyone to get together; with careful planning, landscaping and planting, a garden can be a wonderful, welcoming place for everyone.
Many Artscape commissions in Berkshire and Buckinghamshire are for family garden designs, that not only look beautiful but are also practical and enjoyable for children and adults. We work closely with each client to create a bespoke garden design that will suit all their needs as a family.
Deciding the layout of your family garden
The first thing we consider is the overall design and layout and how the garden will be used. There is a real skill to designing and landscaping a great family garden, as it will be subjected to a multitude of activities. Incorporating well-defined shapes into the design will give the garden a pulled-together look that will prevent it looking cluttered.
Draw up a plan for the whole space
Start by writing a wish list of ideas for the garden and the features you would all love. A treehouse for the children, a large lawn for playing football, a sunbathing deck, a barbecue area perhaps? Whether garden activities for the children or a chic dining terrace to enjoy family meals alfresco, the best family gardens have it all.
Incorporate different zones
If you have the space in your garden, make separate zones so that everyone has room to enjoy their preferred activities in the garden, undisturbed by others. You could add a few seating areas to create destinations and flow in the garden, and also to provide different moods and a mix of sun and shade. Consider centring your garden around a lawn too. A large green lawn will provide plenty of space for the children to run and play and burn off energy.
In this garden there are two distinct seating zones. One is a large, raised terrace for dining and entertaining with a table and chairs close to the kitchen. Being elevated, it gives a full view of the garden so the parents can keep an eye on the children playing below. The other a small patio that catches the morning sun – a lovely quiet spot to sit and enjoy a coffee away from the main house.
Garden features especially for children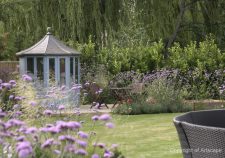 Encouraging the children to grow plants with their own plot is a great idea. This could be a raised bed at the right height for easy-to-grow vegetables and flowers such as courgettes and sunflowers. Other ideas include an adventure playground with a bark chip floor, an in-ground trampoline or a treehouse.
Build a stylish summerhouse
A summerhouse is a delightful addition for any garden and is something the whole family can use. Tucked into a corner, it can become a fairy-tale castle for the little ones. A private retreat for teenagers to chat and listen to music. Or a quiet space for adults seeking some alone time to paint or unwind with a book and glass of something cold. Having a summerhouse will act as a focal point, add personality and function to the garden as well as being somewhere to escape to even in the rain.
Love to create the perfect family garden?
We would be delighted to work with you to design and build your dream family garden. Do get in touch with us today so we can discuss your garden design plans.