• Instant fixes and tasks to improve your outdoor space
• Create a garden that will wow next spring
• Inspiring British spring gardens
Spring is a glorious time of year as gardens begin to burst into bloom. This short guide from us at Artscape will help you create a spring garden to be proud of. There are a few instant fixes you can do now, and some ideas on how to give your landscape a makeover ready for next year. Plus, we've listed some of Britain's finest spring gardens to visit for inspiration.
Instant fixes and tasks to improve your outdoor space
Carry out an inspection of your garden to see what jobs need doing. Every garden will benefit from a spring clean and a tidy up. So, remove any dead plants and debris and pull up intrusive weeds from paths and flower beds.
Terraces, paths and patios
If paths and steps are looking grubby or are covered in algae or lichens, sweep hard surfaces with a stiff broom on a dry day. If your patio or decking is in poor condition, it could be time to replace it with new landscaping. If your garden furniture is looking a little tired and you don't want to buy new right now, then a fresh coat of paint and a few colourful cushions will give it a new lease of life.
Lawns
It's a good idea to give your lawn a good feed in mid spring to encourage strong, thick growth. However, if your lawn is in poor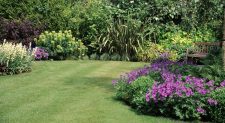 condition with discoloured patches and weeds, check out this RHS lawn care video for tips on how to get your grass in great shape.
Planting
If you have lots of gaps in your planting, make a note of what you'd love to see there next spring. You could also commission a planting design from us at Artscape to achieve the ideal scheme for your garden.
Mulch borders and beds
Mulching, with bark or compost, will suppress weeds, feed the soil and help plants survive a long dry summer. Or for a more permanent solution to control weeds and look attractive, consider a decorative aggregate or eco-friendly crushed sea shells.
Plan new features
Decide what changes or new additions you would like to make. Perhaps your dining terrace gets too hot in summer or you would like to build an outdoor kitchen for easy entertaining, for instance. Browse through our portfolio of gardens to discover different layouts, planting schemes and ideas.
Create a garden landscape that will wow next spring
Here are some of our favourite landscaping ideas for spectacular spring gardens.
Planting schemes for a colourful spring
Autumn is the best time to plant spring-flowering bulbs, such as crocus, daffodils, tulips, hyacinths, and English bluebells. Having a colour scheme of one, two or three colours will give your spring bulb garden a considered, well-coordinated look. Also, plant bulbs with varying flowering times, from early bloomers like snowdrops to later ones like tulips. Spring blooming bulbs always look best in groups. For a natural look, scatter handfuls of bulbs and plant them where they fall in drifts. For a formal setting, plant the bulbs in strong geometric patterns and beds.
Plant a blossom tree
Blossom trees light up the garden and are a source of pollen for bees at the start of spring. You could consider a lovely ornamental tree like Manchurian crab apple, which has fragrant white blossom or Kanzan, a classic Japanese flowering cherry with masses of sugar pink flowers. Or how about an apple tree like Discovery, with showy white flowers in spring followed by a crop of dessert apples in autumn?
Spruce up shady spots
Shaded areas can easily become forgotten corners in a garden. Instead, you could create a miniature woodland that can be just as delightful as brighter areas. Bluebells grow best in partial shade and make a magical sight under deciduous trees. They bloom from early April but do take a while to get established. Or how about creating a dreamy dappled-shade dining terrace? See how we transformed a gloomy corner with white flowers, lush foliage, lighting and a water feature.
Welcome water into your garden
As the warmer weather arrives, water features become a welcome feature. Trickling water in fountains and natural ponds add movement, sparkle and a pleasant sound to a landscape. Still-water elements like pools and basins will bring a reflective quality and sense of depth to a garden.
Great British spring gardens to inspire your garden
Looking for ideas for your garden? Then these are some of the top British gardens to visit in spring.
Kew Gardens, London
The rock garden is striking with its waterfalls and carpet of pink, purple and white alpine flowers. The flowering cherry trees and woodland garden are unmissable too.
kew.org.
Cliveden, near Maidenhead Buckinghamshire
Cliveden's spring glory is its 200m Long Garden, where 20,000 tulips have been planted in four beds. Also, the five-acre parterre filled with daffodils, forget-me-nots and pansies; and a 10-acre water garden where magnolias and cherry trees bloom.
nationaltrust.org.uk/cliveden
RHS Wisley
Spring is here, heralded by a mass of flowers from crocus, daffodils, magnolias and the first cherry blossoms, while seasonal blooms continue to delight on the Winter Walk.
rhs.org.uk/gardens/wisley
NT Greys Court
Greys Court is a family home with delightful gardens and an idyllic setting. With Spring in full swing there is some wonderful colour throughout the gardens.
nationaltrust.org.uk/greys-court
NT Sheffield Park
With acres of landscape garden bordered by its historic parkland and woodland, Sheffield Park is a great place to spend the day.
nationaltrust.org.uk/sheffield-park-and-garden
Choose Artscape for your spring garden project
If you'd love a garden that looks beautiful in spring, and all year round, contact us now to bring your landscaping and planting vision to life. Whether you're inspired to have a complete garden redesign or just want to construct a wildlife pond or new patio and pathways, it's worth getting the best professional advice.