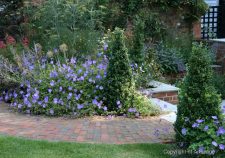 A shady garden might appear to be challenging, but it can be a wonderful opportunity to work with lower light levels to create a stunning outdoor space. A shaded corner can be a delightful area of a garden for an outdoor dining space as it will provide an enticingly cool contrast to a very bright, sunlit plot. This scheme for one of our clients in Berkshire shows how dappled shade can be welcoming and full of life. It was an ideal spot for dining as it leads from the kitchen and is a secluded area. However, it was rather shaded.
Planting and landscaping for a shady spot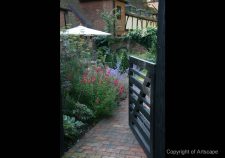 We transformed what was a gloomy corner with a clever planting scheme featuring white flowers and pale-hued paving and furniture help to brighten the space. White flowers bring a luminous, ethereal quality to a shaded garden and fragrance is accentuated in a more confined space. In this garden design, the abundant white blooms of hydrangea and the showy white flowers of agapanthus light up the shadows and add a fresh contrast to the surrounding lush green foliage.
Garden landscaping for a shaded outdoor terrace
If your patio or outdoor terrace is a shaded spot, landscaping using pale coloured materials, such as stone or gravel, for paving and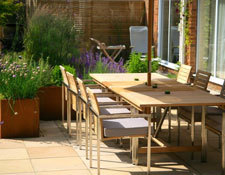 pathways will help to reflect light and lighten the mood of the space. By opting for lighter toned metallic furniture, the seating set-up will feel bright and inviting. A water feature is also a great idea as a trickling fountain will catch the light and glimmer in twilight. As well as being visually pleasing, it will attract wildlife to your garden. Consider introducing lighting too. By illuminating borders, containers, a water feature or trees, the outdoor setting will have a glamorous sparkle, especially at night.
View our portfolio of projects in Berkshire and Buckinghamshire for more garden design ideas.