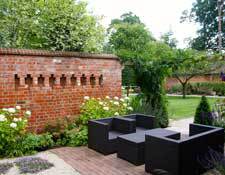 At Artscape our professional garden designers can help you create your dream garden. Through our Award-winning garden design and landscaping, we are able to create your perfect outdoor space. For example, having a series of distinct garden zones or "rooms" allows you to maximise the way you use and enjoy your garden. These separated areas also add interest and an element of surprise to your landscape.
As well as creating areas for different activities, such as sunbathing, dining or growing vegetables, different zones allow you to experiment with themes, colour and styles. However, the layout needs to be carefully designed so the individual areas work together as a whole and achieve a balanced and aesthetically appealing overall space.
Planning your garden zones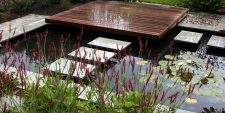 First of all you need to decide which dream spaces you would love in your garden, whether that's an outdoor cinema lounge, a natural pond, a cutting garden, a hot tub or a private spot to read or meditate.
A place for dining, relaxing and entertaining
Eating al fresco at home is top of the menu for many of our clients and a dining area is usually best sited near the house, so you won't have far to carry food or drinks. We built a stunning outdoor kitchen with a breakfast bar and barbecue in a Berkshire garden which is now a wonderfully inviting space. Your entertaining space could incorporate all kinds of features, from a pizza oven and wine cooler to underfloor heating and retractable canopy.
Places to play, grow and escape
A fun area for the children could include a lawn for games and a playground, with fun additions such as a trampoline, climbing frame or a treehouse. Distinct planted areas in your garden could include a vegetable patch, a wildlife meadow or a mini orchard perhaps. A secluded spot in a garden is almost always a necessity for most people and a gazebo is a charming way to create an intimate place to relax in.
Also, don't forget about practical zones you might need for drying clothes, recycling, composting or storing tools and toys, from a bike shed to a log store, whatever you need and however big your zone is, there'll be a perfect solution to keep your garden tidy and organised.
Differentiating garden zones with contrast and levels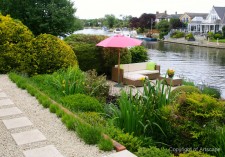 You can zone your garden by using materials to differentiate zones. Hard landscaping can incorporate different textures and effects with materials like porcelain tiles, clay bricks, gravel, grass and timber. Bringing in different levels also instantly creates separate spaces, think of an elevated sun deck or a sunken seating area for instance. Areas can also be divided by planting, fencing, walls or features such as pergolas. Lighting helps to delineate the edges of zones too, as well as creating atmosphere and making the setting safe for evenings too.
Upgrade and extend your outdoor space
Our team of landscape architects and garden designers at Artscape have created many bespoke zoned gardens for homeowners in Berkshire and Buckinghamshire. Why not get in touch with us today to see how we could transform your garden into a super functional, stylish space you will enjoy for many years to come.