Artscape's professional designers, landscapers and horticultural specialists create stunning bespoke gardens of all scales and sizes across Berkshire, Buckinghamshire and Oxfordshire. We take care of garden projects from concept to construction: aiming to make the experience of having your garden professionally designed and landscaped enjoyable and stress free. While it's exciting, do bear in mind that designing and building a garden can be quite a long process; so, you need to allow plenty of time. Six months is a practical time frame and it could be longer for a large, complex project.
Garden design and build process
Our full garden design and build service is a series of six steps from inspiration to implementation. The process is described here to give you an understanding of the different stages of a project.
Step 1 – Initial enquiry and consultation
First of all, we'll have a chat on the phone to find out what you're hoping to achieve and whether we're the right company for your project. We can then arrange to meet you to view the site and discuss your requirements, ideas and budget in more detail.
How much will it cost?
The cost will depend on many factors such as how complex the design is, the materials you'd like, and the size and condition of your garden. As a guide, our projects typically cost between £10,000 to £80,000 to design, build and plant.
Step 2 – On-site visit and consultation meeting
Visiting you on site gives us the opportunity to find out more about how you plan to use your garden. We'll look at the potential and challenges of the site and learn about your likes and dislikes and the features you'd like to incorporate in the design. Do feel free to share any images of garden styles you'd like us to consider. We'll show you examples of our work, make some initial recommendations and talk through what can be achieved within your budget range. Whether you already have a clear vision of your ideal garden, or want to be inspired with exciting ideas, we're here to help you. Following our meeting we'll write a brief for the garden design based on our discussions along with a quotation for the design services required.
Points to consider prior to our meeting
• What times of the day are you most likely to use the garden?
• Do you have any privacy concerns?
• Do you plan to cook, eat and entertain outdoors?
• Do friends or family members have difficulty with mobility?
• Will children and pets be using the garden?
• Will the garden need to adapt as children grow or householders age?
• Do you enjoy gardening? Or would you prefer a low maintenance garden?
• What are your colour preferences?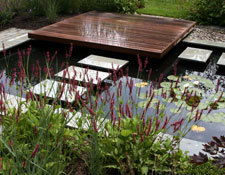 • What new features would you like to include? Such as storage, an outdoor kitchen, or pond.
• Are there any existing plants or features you'd like to keep?
Do you like the views from the garden? Should any be accentuated or obscured?
Which garden styles do you like?
Step 3 – Site survey and design produced
After our meeting, we'll then send you a quotation to carry out the design, survey and planting plans. If our quotation is agreed and you instruct us to proceed, we'll carry out a site survey. This will enable us to produce a scaled plan of your garden and record all the relevant information we need to consider in the design.
Site survey
Your site survey consists of measuring the site and ground levels, assessing drainage, type of soil, aspect, views, and other considerations such as access for landscapers and machinery.
Step 4 – Design presentation and planning
We usually have your garden design concept ready to present within approximately four to six weeks of the survey. The presentation will include the proposed layout for your garden, showing areas of hard and soft landscaping, positions of borders, planting and all the features. We'll also show you mood boards, and visuals of key areas of the design, and samples of materials to convey our ideas and give you a good idea of how the finished project will look and feel. We'll then incorporate any amendments you want to make to the design before preparing a fixed price quotation for the hard landscaping and a schedule to carry out the work.
Step 5 – Approval and commencement of work
On approval of the fixed price landscaping quotation, we will agree a schedule and prepare the master plan containing detailed instructions for the garden construction and planting. Planting usually only starts when all the hard landscaping is complete, to prevent damage to plants and lawns by machinery and works.
Planting plan
Your planting plan will include our recommendations for plants that will thrive in your garden and suit the design and space and match your colour preferences. It will detail the position of each plant, its species and cultivar name and the size and quantity required. The scheme will create unique focal points and accents, with plant combinations providing year-round interest. We carefully hand select the highest quality plants from our trusted suppliers.
Step 6– On site construction and planting
Before work begins, we'll have carried out a full risk assessment and we'll strictly adhere to all relevant health and safety regulations. Artscape is fully insured for public liability. Our experienced landscape team will follow the design to develop your dream garden. We project manage the site to ensure the garden is built to the highest specification and do everything we can to adhere to the agreed schedule and minimise any disruption or inconvenience to you while we carry out the work.
See an example garden design and build project from design to completion.
Please call us for an initial free garden design consultation on 01628 629238.