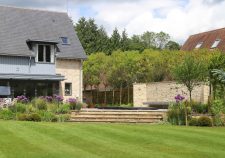 Do glossy garden magazines and celebrities showing off their gorgeous gardens on Instagram make you green with envy? You're not alone. Having a beautiful inviting garden is becoming an increasingly desirable asset for many homeowners in Berkshire and Buckinghamshire. But the cost of creating a better outdoor space is preventing many from realising their dream.
A professionally designed and built garden is a significant, but worthwhile investment if you can afford it. However, you can still achieve great results yourself without spending a fortune. Our garden designers at Artscape have come up with some ideas to suit every budget.
Up to £500
Do always start with a spring clean and tidy up. Scrubbing the patio, cutting back overgrown plants, mowing and edging the lawn, and weeding the borders will give any garden an instant lift.
For immediate impact, your best option is to buy some new plants. Herbaceous perennials like Astrantia, geums, and geraniums are cost-effective as they will grow and spread every year. Also, consider evergreen shrubs like Osmanthus or small native trees like Sorbus acuparia (Rowan) which flowers in spring and has bright berries in autumn.
Choosing smaller specimens will save you money and they should also develop into better, stronger plants in the long term. You can buy bare root shrubs and hedging in Winter and find plants past their best on clearance benches at garden centres to save money.
For instant colour and results, you can buy colourful plants to fill in any gaps and, if these are perennial, you will have that colour again next year. You can sow annuals or bulbs to add colour and fill gaps looking ahead to different parts of the year to add interest all year round.
Another idea would be to invest in an architectural plant, such as a tree or large leaved plant. Tree ferns (Dicksonia Antarctica) are great for a sheltered area. Grasses, dogwoods and Phormiums can create height and drama and focal points in your garden.
£1,000 – £2,500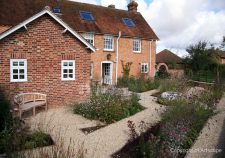 With a larger budget you can introduce some hard landscaping, such as raised beds, paths, or a small patio. Timber railway sleepers are a cost-effective way to create dynamic shapes and changes of level in a garden, but they won't last forever. Gravel is a reasonably priced, attractive, and eco-friendly material for paths and terraces, and fairly easy to lay yourself. You could also consider ways you might reuse existing materials in your garden such as bricks and paving to create new paths and features. Ebay, freecycle, and local ads are a good way to find great value materials.
If you would love to include a lawn in your garden design, the simplest and cheapest way is to use a multi-purpose lawn seed mix or a good quality lawn turf. If your existing lawn looks shapeless and boring, why not shape it with borders to make it look more interesting?
A curved lawn always looks good, but any well-defined shape that suits your garden will work well. Just mark out the area with a string (or spray paint) and dig out the excess grass with an edging spade.
Pots and containers are an ideal way to add colour and interest to neglected corners of a garden or to give height and privacy to a small deck or patio. With some creativity it's fairly easy to make your own. You may even be able to use old objects such as Belfast sinks, metal bins or immersion tanks to create good sized planters. Avoid using pallets or wood designed for interior use as they will not be treated against rot.
Why not look at online articles or videos to learn how to install a beautiful water feature or a garden structure such as a pergola?
£2,500 – £20,000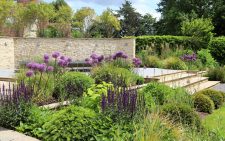 This budget range will allow you to have smaller elements professionally installed. A garden designer can offer you a professional planting scheme with advice on plant locations.
Other ideas include fencing to screen any unsightly features such as bins, or to provide a private and secluded spot for relaxing or sunbathing. Stylish and practical garden furniture such as a patio set (table, chairs, and a parasol) or garden benches. Charming features, such as statues and urns which can be found at reclamation yards and boot sales, and really add character to a garden.
Also, do install ambient lighting to bring your garden to life after dark. You needn't light up the whole garden, simply highlight areas of foliage. There are low voltage lighting kits which could be connected to a switched socket which you can use to light key areas of the garden. Solar options are also available but generally have a lower output.
£20,000 and upwards
With this kind of budget, you could hire a professional garden designer and landscaper, to design and install your garden. The lower end of the budget would be for a smaller garden with basic materials but, like with interior installations, larger areas and expensive elements and materials will push costs upwards. Landscaping work will cost just as much as the same amount of building work. At Artscape, we aim to establish the budget from the start so we can be realistic with your budget and requirements.
A patio or terraced area is a vital addition to every garden, as it provides a dedicated area for dining, lounging, and displaying plants in decorative pots.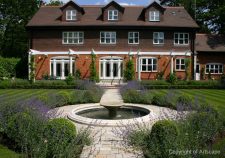 A pond or water feature, such as a fountain, would bring movement, sound and reflection, as well as wildlife, to your garden. The sound of running water creates a tranquil atmosphere too.
A large garden structure, such as a gazebo or even a small outbuilding such as a shed or studio could be considered too.
Whether you engage professionals to help or gradually do all of the work yourself, it can be very pleasurable and rewarding creating your garden, watching how it takes shape and grows. Don't feel you have to spend all your budget at once. Be patient and enjoy the time you spend transforming each part of your garden.