Contemporary Garden Design with Swimming Pool in Berkshire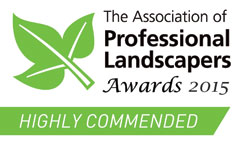 This large residential contemporary garden design and landscaping project in Berkshire includes a luxurious swimming pool, summerhouse, dining and lounge terraces, pathways and planting. The client brief was for an elegant, contemporary style landscape combined with wildlife-friendly planting and an enjoyable space to relax and entertain.
Hard landscaping using natural materials
The hard landscaping has a clean, light aesthetic with all the landscaping elements built using natural materials in a modern soft grey palette. The terraces for dining and lounging, complement the property's new modern glass extension.
Bespoke landscaped dark swimming pool
A dark swimming pool like this is high end, alluring and unexpected. It has a more natural look too, compared to the typical blue of most swimming pools. The dark surface reflects the landscape giving it an enticing mystery and it is a beautiful contrast against the lighter surroundings. With the floor and sides lined in black, the pool is also warmed more easily by the sun, while still appearing deep and cool.
Custom-built pool house
The dedicated luxury pool-side summerhouse is designed to be enjoyed in all seasons and weather. As well as providing a changing room and lounge area, the building is also a stylish art gallery. At night, the pool house comes alive with lighting designed to accentuate the artworks within. The seating area in natural stone provides an elegant framework to the pool. This Berkshire garden design illustrates a wonderful way to incorporate a custom-built swimming pool into the landscape. Placing the pool away from the home creates a distinct zone and a secluded and enticing place to escape to.
Soft landscaping and planting
Lush rolling lawns and low-level planting convey a feeling of space and openness, while specimen trees and artworks add points of interest to this Berkshire garden. The planting schemes are a mix of contemporary and informal styles, wild flower meadows, and have been designed to integrate with existing trees and shrubs. The emphasis is on an elegant simplicity with a pared-back palette of greens, whites and purples. Rounded topiary balls and spherical white alliums make a striking display and link with artworks in the garden. A herb garden was also created close to the kitchen and dining area.
In addition, we designed and built new entrance gates and a practical, safe driveway (not shown) which maximised the parking spaces with more room to manoeuvre.
If you are looking for a professional, experienced garden designer, please get in touch with us today to chat through your ideas.