Creating your ideal outdoor space

Artscape has been designing and building inspiring gardens for many years. Here are our ideas on how you can create your ideal outdoor space.
Purpose: How do you want to use the garden?
Start by creating a wish list of what you'd like in your ideal outdoor space and collect images of styles and ideas you like. First, think about how you plan to use your garden. Do you want to host parties? Are you looking for a tranquil spot to escape to? Does the garden need to be child or dog friendly? Or perhaps you'd love a swimming pool? Your wish list will determine the kind of features you need, such as seating areas, an outdoor kitchen perhaps or a play area for the kids.
Layout: Analyse your plot
Now you need to get to know your garden's aspect, as this will determine your planting and garden layout. If it's north-facing it will be in shade for much of the day; so you'll need to select shade-loving plants and perhaps think about lighting. if it's south-facing you'll have plenty of sunshine, but you might need drought-tolerant plants, and some shade for comfort, such as a gazebo or trees. Also consider any problems that need to be solved such as a steep slope or being overlooked by neighbours.
Style: How do you want it to look?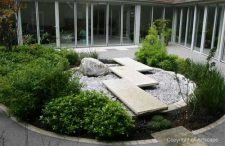 Next decide on the style of garden you want. Urban, wildlife, Japanese, cottage garden perhaps? The style you choose should ideally complement your house. The two main garden styles are: a formal garden which has symmetry and geometric shapes, architectural plants such as topiary and a restrained planting palette. Or an informal garden which has a more carefree look, with organically shaped borders filled with perennials, shrubs, and grasses. It is possible to mix styles and we can advise on how this can be achieved successfully.
Structure: plan your hard landscaping
Remember, not everything needs to be completed at once, and with a tight budget you can phase the project. However, hard landscaping should generally be completed first. This includes walls, fencing, steps, patios, terraces, raised beds, pathways, and ponds. If you want to divide your garden into zones, you could use low walls, hedging or fencing, or even create different levels. Ideally your hard landscaping should stick to three main materials, such as gravel, stone and brick; or stone, metal and timber.
Do plan and build paths first so you can easily get around the plot.
Lawn or not?
Lawns look beautiful, absorb rainwater and make a great surface to play on. In a small garden, you could consider bark chippings, gravel, or paving and have planting as the living part of the landscape. If you want to create privacy in your garden, or block unsightly areas, the answer is to install fencing or plant mature evergreen hedging or trees for instant screening.
Seating areas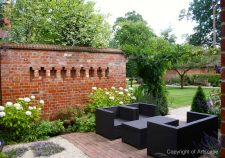 If you have the space, having a variety of seating zones will make your garden sociable and welcoming. If used for dining, the seating area needs to be level and sited close to the kitchen. You could consider having a fire pit or fireplace area to extend your outdoor entertaining season.
Child's play area
Permanent play equipment, such as playhouses and swing sets, look more attractive outdoors if made in natural materials such as wood. You could screen off the play area using trellis or sink a trampoline into the ground to stop it from dominating the view.
 Storage
Every outdoor space needs storage for tools, furniture, and DIY materials. If space is limited, a storage unit could double as a seat bench or table.
Focal points and features
Decide on focal points to draw and direct the eye. This could be a specimen tree, a water feature, or a pergola for example. A small garden usually only needs one point of interest; a larger garden with several zones could have a few focal points. Every garden should ideally have a water feature that fits in with the scale of the surroundings too. Something as small as a bird bath or a pond or fountain in a larger garden.
Planting design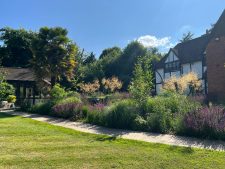 Think about the types of plants you want in your garden and aim to provide some interest at different times of the year. Start with trees and evergreens which will provide structure and screening. Trees create vertical interest and structure too. Next consider deciduous flowering shrubs, then perennials, annuals, and bulbs which will provide seasonal colour and interest when you are potentially using your garden most. You could feature one or two colours, a palette of pastels or dark, rich tones, or a riot of colours. Texture is important. Aim to have a mix of softness and bold shapes. Also, make sure to choose plants that will thrive in your garden soil and site. Consider their shape and size, and how much room and sunlight they'll need. Raised beds are ideal for growing fruit and vegetables or consider growing crops in containers if your space is limited.