Riverside garden with sun terrace, Marlow, Buckinghamshire
This riverside garden with sun terrace in Marlow, Buckinghamshire was redesigned by Artscape to create a safe, attractive and more effective link between the house and the river. The original garden was very run down. The plan was to create a new paved upper sun terrace by the house and build a series of steps leading down to the boat mooring. This successful bespoke garden design weaves hard landscaping and plants with texture and shape to create a harmonious setting and enhances the views of the garden and river scene.
Hard landscaping: stone terrace and timber steps
The upper sun terrace has been created using natural sandstone paving. Sandstone can be cut easily to create bespoke shapes and looks naturally elegant laid in a random pattern. This beautiful natural stone is slip resistant, requires little maintenance and is ideal for a family terrace. We built a new set of oak sleeper steps with binding gravel. The oak sleeper steps create a durable and attractive way to reach the mooring from the terrace. Oak timber is a hardwood which weathers well and gives a softer, more forgiving edge compared to the exposed sharper edges of stone. New lighting was installed in the garden and around the steps which has a magical atmosphere and improves safety at night.
Planting scheme
This planting scheme was designed to provide plenty of visual interest when viewed from both the house and the river. In planning the planting, Artscape's horticulturalists took account of the riverside setting where breezes affect planting movement. The team focused mainly on architectural form and texture, with colour used for additional emphasis. The plants include Cordylines, tactile grasses, ferns and low-maintenance herbaceous perennials. Cordylines have a dramatic, palm-like appearance and attractive foliage in shades of green, bronze and purple, and they are happiest grown in a mild, frost-free location like the garden setting here.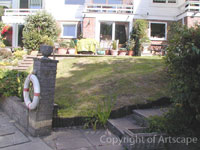 Before