Traditional walled courtyard garden in Ascot, Berkshire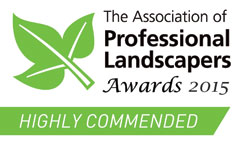 This garden design project involved creating three distinctive areas for our client's refurbished property. The brief was to add visual interest to the tired existing garden, enhance the terraced areas for dining and relaxing, and make the garden more attractive to wildlife.
Different levels of soft landscaping and new hard landscaping elements have broken up the lacklustre, one-dimensional feel of the old garden. Having a series of zones like this, increases the appearance of space in the garden and varies the interest and atmosphere.
Redesigned dining terrace
Our brief was to create a more accessible, practical and inviting dining terrace which would look good throughout the day, and all year round. So, we extended the paving so the terrace would benefit from the evening sun and introducing cutout paving for growing herbs. We also planted a new mixed herbaceous perennial border around the terrace.
Improved seating area
For another lounging terrace, we created a more comfortable and stable seating area by adding terracotta pavers to the gravel, which link sympathetically with the existing traditional brick wall. We also introduced creeping thyme into the gravel to add colour and fragrance to the setting. Another way to add interest to a patio is with statement furniture, such as the sofas and coffee table.
New planting schemes
The main task for Artscape was to add beauty and softness to the garden with new and better planting. The planting scheme has a palette of mainly white, mauve and purple and includes a mix of perennials, grasses and shrubs such as white hydrangeas. Hydrangeas are easy to grow and flower for a long time. We also incorporated herbs such as rosemary and thyme which are fragrant and full of flavour.
Bespoke wisteria pergola
A wisteria in full bloom looks beautiful and brings romance to the garden, especially when trained on to a pergola as this allows the long flower clusters to hang freely, creating a fragrant, floral canopy. Wisteria is a large climber and requires a sturdy support structure, like this bespoke rustic post and timber beam which will weather gently over time. This also adds height creating a natural division.
New nature-friendly features
Our client wanted to attract more birds and other wildlife to the garden, and bird baths are an ideal way to achieve this. We positioned bird baths between all three garden levels and introduced seating and benches to create viewing points.