At Artscape, we design and landscape gardens with nature in mind. This means using plants and materials which work beautifully for gardens all over Berkshire and Buckinghamshire and help the natural environment too. Thoughtful garden design and sustainable hard landscaping helps to preserve precious natural resources and supports wildlife.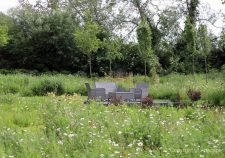 Eco-friendly garden landscaping uses sustainable materials for walls, paths, terracing, patios, and driveways. These could be reclaimed building materials such as house brick for a patio or reclaimed walling stone for retaining and boundary walls.
Where possible patios, terraces and driveways should be permeable, so that water is allowed to filter through and into the ground. Heavily paved areas can prevent water from seeping naturally into the soil. Instead, the run-off can go into overloaded drains which is a major contributor to flooding. Flooding is an increasing problem with many homeowners paving over their gardens with non-permeable materials.
We have landscaped gardens in all kinds of eco-friendly materials ranging from a brick staircase and striking grey natural stone terrace to decorative natural stone paving and gravel paths for a property in Berkshire.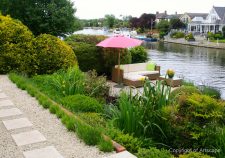 Locally-sourced gravel can provide natural drainage and will leave the surface free of puddles. It's an effective material for breaking up flat stretches of solid stone in the garden where water may not easily drain away. Gravel is also a useful mulch around your plants and shrubs, preventing water loss as well as inhibiting the growth of weeds.
Native trees and wildflowers
Native trees and plants support and encourage wildlife. Trees provide shelter and food for wildlife, provide shade and absorb air pollution too. Native wildflowers are easy to grow and maintain, and are ideal for attracting bees and butterflies. If you have enough space do consider a wildflower meadow.
If you are planning a new environmentally-friendly scheme for your garden in Berkshire or Buckinghamshire, please get in touch with us today at Artscape to discuss your plans.