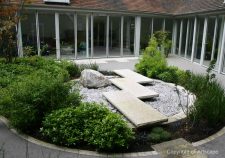 A Japanese zen garden, also known as a Japanese dry garden or Japanese rock garden, has the distinctive style of a miniature landscape. This is achieved by carefully composing arrangements of rocks and large rustic stones which represent mountains, with decorative gravel and pebbles, symbolising rivers and lakes in a highly stylised way. Natural boulders and stepping stones look as though they have been there forever.
The contemporary Japanese zen garden design avoids unnecessary decoration and is free from clutter, giving it a serene charm. If you enjoy the sculptural qualities of stone and a minimalist look, then the Japanese garden style is ideal for you.
Scenic landscape in a confined space
A zen garden is often referred to as a sanctuary, as it is usually framed or surrounded by buildings, fences or walls. Japanese garden ideas work well in small spaces and courtyards as traditional designs use scaled-down symbolism. So, the landscape would work well in smaller enclosed outdoor spaces for homes in Berkshire and Buckinghamshire. Manipulating perspective can create the illusion of a larger space. For instance, large rocks in the foreground leading to much smaller ones behind with vertical accents, such as trees, enhancing the effect.
Japanese zen garden: Hard landscaping materials and features
For the hard landscaping of a zen garden choose natural rock, stone, sand and wood. Gravel and sand can be used for pathways, but also to represent water in dry gardens, raked into winding patterns to mimic gentle ripples. Crushed granite gravel holds raked designs well. A flat slab or stone zig-zag bridge is a lovely feature used to replace the traditional wooden arched bridge. This hard landscaping creates the backdrop to feature trees and planting.
Japanese zen garden: planting scheme
Japanese gardens limit colour to a restrained palette of verdant greens to create a sense of tranquillity and seasonal colour for visual interest. So, which trees and plants should you consider for a Japanese style planting scheme for your garden in Berkshire or Buckinghamshire? Evergreen trees and shrubs, or those with a striking autumn foliage or delicate spring blossom are a feature.
Two low maintenance evergreen shrubs are glossy-leaved Pittosporum Tenuifolium and beautiful bamboo that will bring height, texture and movement to the space. The best evergreen Bonsai trees are pines and junipers as they are easy to care for. For bright autumn foliage, consider Japanese maple (Acer Palmatum), which is compact and easy to grow in a container or the ground. Flowers, when they do feature in Japanese gardens, are often transient with bursts of colours. For spring colour, select a small ornamental cherry tree such as Prunus Kursar with its deep pink spring blossom or an Azalea or Rhododendron and Irises for summer colour.
If you are contemplating the idea of Japanese-style zen garden for your property in Berkshire or Buckinghamshire, do get in touch with us at Artscape for more inspiration and advice.