Many Artscape commissions in Berkshire and Buckinghamshire are for contemporary garden designs. Contemporary gardens are rather like outdoor rooms and an extension of the home. Our clients usually want us to design and build a garden that will be a beautiful and enjoyable modern living space for relaxing and entertaining.
A typical contemporary garden design has sleek, clean lines, a high-quality finish and elegant features. Planting tends to be minimal and adds interest and beauty while also being low maintenance. The emphasis is on simplicity with a pared-back palette of subtle, cooler, natural colours such as greys, light browns and cream which give a contemporary atmosphere.
Designing your contemporary garden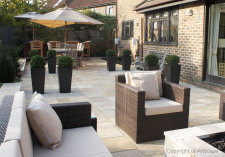 At Artscape, we will work with you to create a bespoke garden design that suits your individual property, whether that's a modern town house in Berkshire or a rural residence in Buckinghamshire. Even if you have a traditional house, you can still have a contemporary garden of course, but it's best when the outdoor surfaces work in harmony with your home.
Deciding the layout of a contemporary garden
The first thing we consider is the layout and how you plan to use the space. The layout of your garden should mirror your home in terms of scale and proportion, and we'll reflect that with well-defined geometric shapes or statement curves at the core of the design.
is a key part of a contemporary garden design and materials with a clean, modern aesthetic work best. This contemporary garden design for a modern property in Berkshire features a stunning large terrace in travertine paving which has a light, clean, crisp look. In our contemporary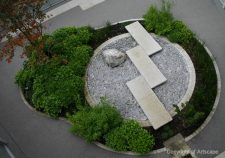 Japanese-inspired garden the landscaping has been designed and built to complement the interior of our clients' house. As you can see, lush and architectural planting add softness, excitement and movement.
Planting for a contemporary garden
At Artscape we like to use a mix of strong, structural planting combined with additional seasonal interest achieved through perennials and grasses. As it is always on display, a garden needs to look good all year round. Plants add colour and shape to a contemporary garden, and soften the edges of hard landscaping.
Structured trees and topiary work well in a minimalist, modern setting, especially when clipped into high-impact shapes which echo the landscape. We also like to add texture, movement and screening with plants like bamboos (always in root barriers) and ornamental grasses; and these require very little maintenance.
Special features for a contemporary garden
Special features like a built-in fire pit, purpose-built outdoor kitchen with a barbecue and breakfast bar make this Berkshire garden a wonderful space for all day and year round entertaining.
Other special elements to consider for your contemporary garden include vertical structures, such as pergolas, sculptures, water features and beautiful lighting. At Artscape we can design and install the perfect mix of task lighting for cooking and dining, and mood lighting, such as up-lighting, to extend your enjoyment of the garden late into the evening.
We would be delighted to design and build the perfect contemporary garden for you. Just get in touch with us today and we can start to discuss your plans.