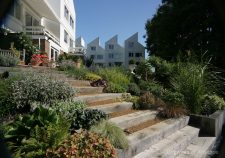 Natural sandstone is an excellent garden landscaping material for all kinds of applications from pathways and patios to walls and pool surrounds.
Natural sandstone has many advantages
Sandstone is incredibly versatile and full of character. It comes in a vast array of subtle, earthy colours, patterns, and textures to blend with any traditional or contemporary setting. The stone's beautiful appearance suits many garden styles, from formal and elegant to natural and informal.
Colour variation is a key feature of sandstone and can vary from smoky greys and light creams to warm beiges and darker browns. Each slab has its own unique mix of shades and markings. Following rain, sandstone shades increase in intensity and vibrancy. For greater colour consistency, there are premium sandstone ranges which are hand-selected from specific quarried seams. The paler cream sandstone tones will lift a gloomy spot but will need to be kept clean to look their best and will be most suited for locations in full sun where algae will be unlikely to take hold.
Extremely hardwearing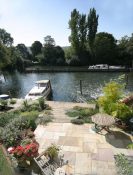 Good quality sandstone is tough and extremely hardwearing. It ages exceptionally well and retains its neutral tones better than most other stones that tend to alter their appearance after constant exposure to heavy traffic or harsh weather.
Sandstone comes in a wide range of slab sizes so paving can be laid in a random, more traditional manner or as a single size slab for a more exacting, contemporary style. Sandstone can be easily cut into shape to fit any garden design and landscaping project.
Natural sandstone comes in different surface finishes; riven, sawn and textured.
Smooth sandstone slabs are also available. Sandstone suppliers have responded to the modern trend for smooth designs by removing the riven surface texture and give it a contemporary finish.
An investment that lasts
If you are investing in hard landscaping for your garden, then consider natural sandstone. It will last for generations and look great all year round. If you are interested in improving your garden with natural stone, do get in touch with us to discuss your landscaping project.