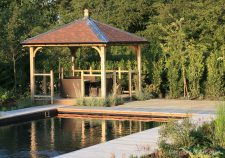 There is a growing trend for darker, natural style residential swimming pools in Berkshire, Buckinghamshire and across Southeast England. A dark pool in a landscape setting looks more natural in the changeable English climate than a light blue pool, which can look forlorn and out of place in winter.
When you view a dark pool from your house, it will look like a natural part of the landscape.
Dark swimming pool finishes give the water a lagoon type of feel. This is achieved by lining the pool with black, dark blue, deep grey or dark green coloured tiles.
The surface reflects the nearby landscape giving the scene a moody vibe and the darkness evokes a sense of tranquillity and mystery.
Another advantage is of a dark bottomed pool is that it naturally absorbs heat from the sun, warming the water, while still appearing cool and deep.
Shallower pools are a growing trend too
Swimming pools built years ago tended to have a deep end, but the trend now is to design the pool as a play pool or sports pool. Reducing the depth of the pool, makes it more useable, economical and easier to maintain and clean. A shallow pool gives everyone more space to enjoy the pool and play water games. It's safer too, as every swimmer will be able to comfortably touch the bottom.
Would you love a natural style swimming pool?
At Artscape we have many years' experience in creating natural style swimming pools in Berkshire and Buckinghamshire. If you are considering upgrading your old pool or having a new dark swimming pool in the grounds of your house, do get in touch with us at Artscape for an initial consultation.