Large garden design and renovation in Medmenham, Buckinghamshire
This large residential garden design and renovation project was for an outstanding property in Medmenham, one of the oldest villages in England. Artscape was commissioned to transform the overgrown and dilapidated half acre plot and to enhance the views of its highly coveted location near the river Thames. The house was being completely renovated and the owners wanted a cost-effective garden layout with new landscaping elements including planting, lawns, terraces, fencing and a driveway with automated entrance gates that would meet the family's needs and make the most of the grounds and views.
Garden design family features
New terraces were created for family dining and entertaining with space for tables, chairs, and sofas. Porcelain paving was laid which matched the kitchen's flooring but featured a non-slip texture. A double car port was transformed into an all-weather recreation area with a table tennis table for the children and a large lawn for football and play, and the drive was used for skateboarding, cycling and basketball.
Expert tree care
The grounds were overgrown with trees and foliage, creating excessive shade, and blocking views. Our arborists carried out a range of tasks including crown lifting, thinning, and felling to maintain valuable screening, while allowing in more light for the lawn. The beautiful birch trees were retained to edge the drive and create an avenue. An existing native hedge was reduced to open up the views and to be able to see the sheep. Their sculpture of Shawn the Sheep was a pleasing link.
Wildlife friendly log pile
The felled logs were re-used as a garden feature and to provide a habitat for insects and wildlife as well as an attractive screen for the compost heap.
Stylish low maintenance planting scheme
Planting around the house focused on providing colour and interest. The planting scheme features low maintenance perennials and shrubs chosen to suit the garden's soil type and situation. The refined pastel palette and informal style was designed to soften the edges of the landscaping and create a naturalistic scene which has shimmering movement in the breeze.
New lighting was located throughout the garden to create ambience, highlight the birch trees, and increase security and safety. Uplighters were installed on the drive and terrace.
New eco-friendly resin gravel driveway
A new resin gravel driveway was installed with granite edging and insets. Resin bound gravel bonds small stones and pebbles with high-tech resin to form an attractive firm surface. Tiny gaps allow water to drain freely through the stones into the ground. This combines the excellent drainage and appearance benefits of loose gravel with the durability and convenience of a firm, smooth surface.
Contemporary-style Venetian fencing
The property is surrounded by fields and woodland. Attractive Venetian fencing was installed to the side of the drive to create a stylish formal boundary, increasing privacy, adding security and concealing the bin storage and utility areas. Venetian trellis panels have a horizontal slatted design which allows light and air to pass through, while offering good wind resistance. This style adds decoration as well as security to garden screening.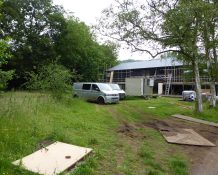 Before