Contemporary garden with swimming pool, South Oxfordshire
This recent Artscape garden design project was for a family home near Abingdon in Oxfordshire, and included pool landscaping, a large patio area for lounging and dining, pathways and extensive planting.
Pool landscaping with porcelain surround
The main feature of the garden design is the outdoor swimming pool, installed with the luxurious poolside surround we created using porcelain paving. Porcelain pavers are extremely hardwearing, water-resistant and provides a stunning, high-end, consistent finish. The pathway linking the pool to the house uses a durable, modern dark black clay pavers by Vande Moortal which makes a striking contrast to the light toned porcelain which also complimented the modern extension.
Another feature of the pool landscaping is the premium, venetian-style trellis. This attractive design allows light and air to pass through while maintaining privacy.
Contemporary garden pool house
Artscape designed the contemporary garden pool house which was custom-built to enhance the use of the swimming pool. It features a made-to-measure changing room and plenty of dedicated storage space for towels and play equipment.
Barbecue area
Just behind the changing room is a new barbecue area which has been screened with a Corten steel trellis. Also know as weathering steel, over time this will form an attractive raw, rusty-orange, textured appearance, blending naturally with the surrounding landscape. Corten panels are very long lasting and require minimal maintenance.
Poolside planting
Pleached hornbeam trees have been planted in front of the venetian-style trellis to add extra privacy and style to the poolside setting. Hornbeam has bright green foliage in spring and summer and crisp, copper leaves in autumn. Pleaching is a sophisticated, centuries-old method of training trees to produce a narrow, formal-style hedge.
The planting scheme surrounding the pool consists mainly of soft ornamental grasses, bearded iris and purple salvias. We made sure there was an interesting combination of colour, height and texture. The borders running from the house down to the pool area have been planted with a mixture of Alliums, bright orange flowered Geum, Acers and grasses with a palette ranging from hot to cool greens.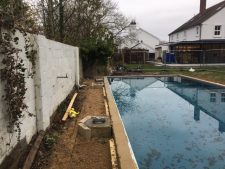 Before