Garden design and landscaping in Chalfont St Giles, Buckinghamshire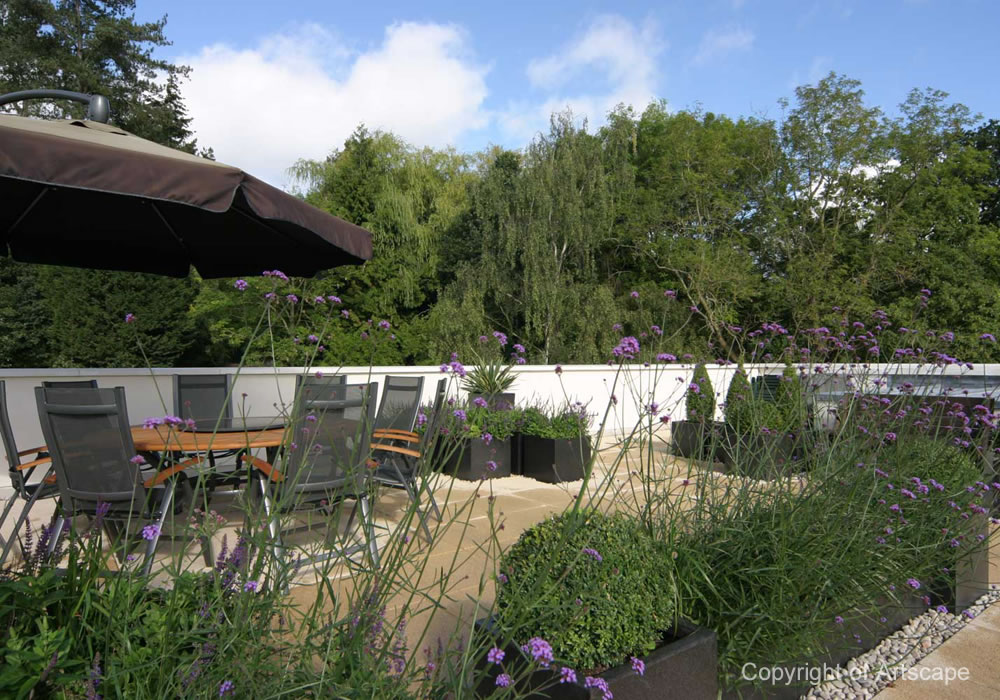 Artscape, a professional garden design company, has been designing and building bespoke, beautiful, award-winning gardens for over forty years.
Our services include creative garden design, landscaping and planting for clients across Buckinghamshire and Berkshire.
Designing and building beautiful gardens
Whether you are starting from scratch or revamping your existing garden, our professional garden designers will be able to advise you on stunning yet practical ideas to create your perfect outdoor space.
Take a look at this example of garden design and landscaping for a couple near Chalfont St Giles, Buckinghamshire. The roof garden design needed to take into account the load bearing of the roof, the weight of the plant containers, which were instead of raised beds, and the types of plants that could cope with wind scorch and full sun.
The roof garden is divided into two distinct areas, one for dining and one for relaxing. Having a series of zones like this, increases the appearance of space in the garden and varies the interest and atmosphere.
These areas have been separated using lightweight containers and planted with architectural plants including a range of clipped box, phormium and yuccas. In contrast, ornamental grasses mixed with flowering perennials add movement and a splash of colour throughout the summer. Olive trees were also planted to add height to the garden and act as focal points.
Take the first step to achieving your dream garden today
Be inspired by the garden design and landscaping we've created for clients in the Chalfont St Giles area. When your garden has been expertly designed and created, it will add value to your home and provide many hours of pleasure in the years to come. So why not contact us today or call us on 01628 629238 to arrange a free, no obligation, design consultation to discuss your ideas.