Services
Garden Design & Build
Artscape has designed and built hundreds of gardens – traditional and contemporary, small and large – so you will benefit from our experience and knowledge. We know what works – the layout, the plants, the paving, the decking…. in fact every element of what makes a great garden design.We carry out the design and build of gardens for clients as it ensures the highest quality service.
Garden Maintenance
Once your garden has been landscaped we also provide garden maintenance for clients in Berkshire and Buckinghamshire. Garden maintenance can be tailored to your needs – be it an annual prune of trees and shrubs or weekly visits to look after every aspect of your garden to keep it in tip-top condition.
Read more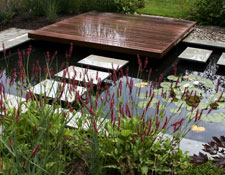 Natural Swimming Pools
A swimming pond or natural swimming pool is specifically designed so you can swim in pure, clear water with no chemicals. The design can range from formal to entirely natural, and it is all at once a practical swimming facility, a beautiful landscape feature and a wildlife sanctuary.
Conservatories
We tailor the conservatory design so that it blends in with your garden.