Family Garden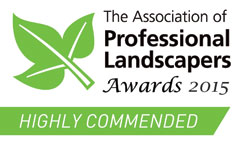 A contemporary garden using cream sawn paving with a Corten steel water feature and planters adjacent to a new modern extension for eating and entertaining.
Horizontal slatted trellises screened a vegetable garden with vertical timbers as a feature and a timber pergola linked with stainless steel cables to allow vines to grow over for shade.
A trampoline was located in the corner, surrounded by grasses with a swing off a tree, an area for the pet guinea pig and a level lawn for play.
Planting included a range of herbs for cooking and for flavouring drinks completed the effect.