Artscape has been featured in the Maidenhead Advertiser after celebrating 40 years in garden design and landscaping.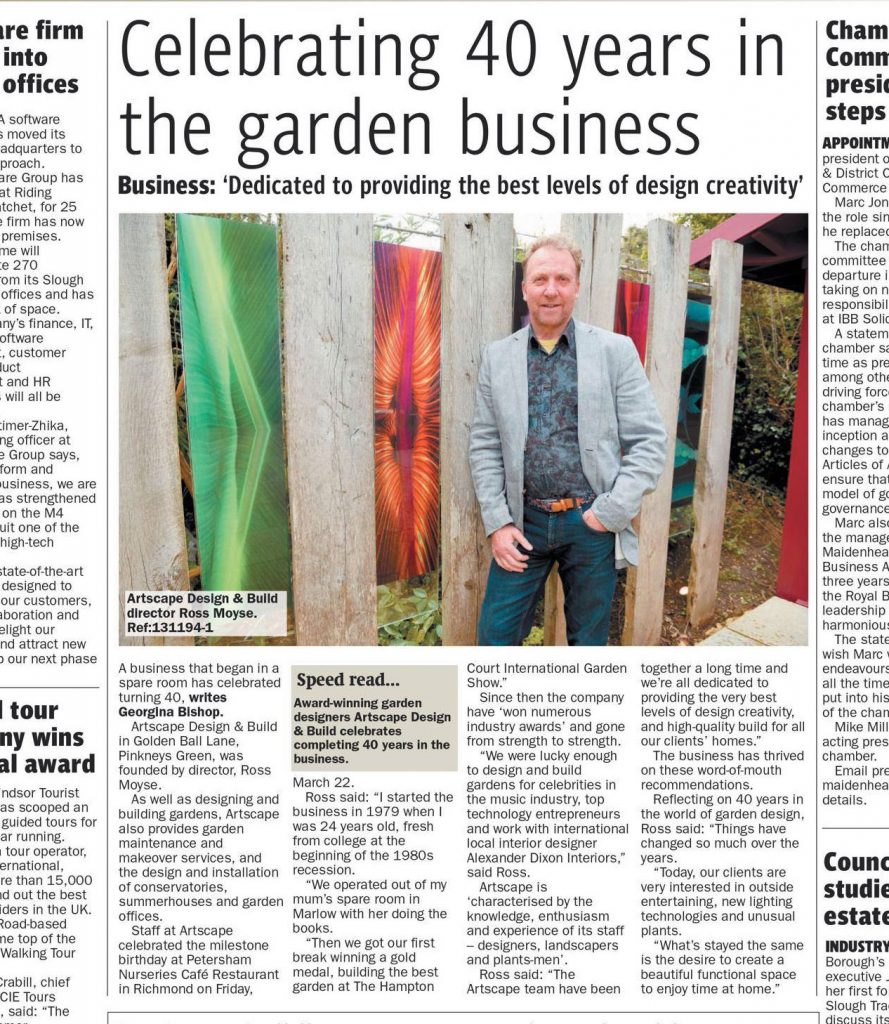 A garden design and landscaping business that began in a spare room has celebrated turning 40, writes Georgina Bishop.
Artscape Design & Build in Golden Ball Lane, Pinkneys Green, was founded by director, Ross Moyse. As well as designing and building gardens, Artscape also provides garden maintenance and makeover services, and the design and installation of conservatories, summerhouses and garden offices.
Staff at Artscape celebrated the milestone birthday at Petersham Nurseries Café Restaurant in Richmond on Friday, March 22.
Ross said: "I started the business in 1979 when I was 24 years old, fresh from college at the beginning of the 1980s recession. We operated out of my mum's spare room in Marlow with her doing the books. Then we got our first break winning a gold medal, building the best garden at The Hampton Court International Garden Show." Since then the company has 'won numerous industry awards' and gone from strength to strength.
"We were lucky enough to design and build gardens for celebrities in the music industry, top technology entrepreneurs and work with international local interior designer Alexander Dixon Interiors," said Ross.
Artscape is 'characterised by the knowledge, enthusiasm and experience of its staff – designers, landscapers and plants-men'. Ross said: "The Artscape team have been together a long time and we're all dedicated to providing the very best levels of design creativity, and high-quality build for all our clients' homes."
The business has thrived on these word-of-mouth recommendations. Reflecting on 40 years in the world of garden design and landscaping, Ross said: "Things have changed so much over the years. Today, our clients are very interested in outside entertaining, new lighting technologies and unusual plants."
"What's stayed the same is the desire to create a beautiful functional space to enjoy time at home."