Awards Winners
Artscape has won many garden design awards in prestigious events including Hampton Court International Flower Show as well as being recognised with numerous industry awards.
Hampton Court International Flower Show
We have won four awards at the Hampton Court International Flower Show. This includes twice winning the 'Best Garden Award' which is given in recognition of the quality of design and build – something that you will experience as a client of Artscape.
APL Landscaping Awards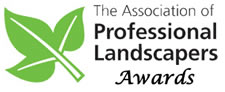 Artscape have also won awards with the Association of Professional Landscapers (APL), most recently winning in the project value £40,000-£60,000 category. The project created a stunning seaside garden with fantastic views over the River Dart. The judges commented that the design and planting is "brilliantly sympathetic to the setting and very photogenic". We were also commended in several other categories.